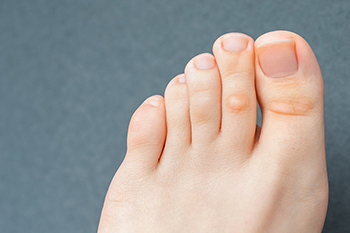 Corns are hard, callus-like growths that can develop on your feet. They usually develop in response to repeated pressure applied to a point on the foot, usually from ill-fitting or tight footwear. If you have corns on your feet, you should consult with a podiatrist to address the problem in the best possible way. In some cases, you might be able to remove the corn with a few at-home remedies. However, those with diabetes, circulatory disorders, and certain other conditions should never attempt to treat a corn by themselves. The most common way to remove corns involves soaking the feet in warm water for approximately ten minutes. This is done to soften the affected skin on the feet. After this step, you may be able to gently file down the outer layers of the corn by using a pumice stone or an emery board. However, it is important not to file excessively because you might end up injuring the deeper layers of the skin. There are also a variety of over-the-counter products that you might find useful in attempting to remove the corn on your feet. For example, you can use products such as lotions or scrubs that contain salicylic acid. This acid works to break down the corn. When in doubt, it is best to contact a trusted podiatrist who can help you determine the best way for the corn to be removed.
If you have any concerns regarding your feet and ankles, contact the foot specialists of Table Mountain Foot and Ankle. Our doctors will treat your foot and ankle needs.
Corns: What Are They? and How Do You Get Rid of Them?
Corns can be described as areas of the skin that have thickened to the point of becoming painful or irritating. They are often layers and layers of the skin that have become dry and rough, and are normally smaller than calluses.
Ways to Prevent Corns
There are many ways to get rid of painful corns such as wearing:
Well-fitting socks
Comfortable shoes that are not tight around your foot
Shoes that offer support
Treating Corns
Treatment of corns involves removing the dead skin that has built up in the specific area of the foot. Consult with Our doctors to determine the best treatment option for your case of corns.
If you have any questions please feel free to contact our office located in Wheat Ridge, CO . We offer the newest diagnostic and treatment technologies for all your foot and ankle needs.
Read more about Understanding Corns and Calluses